One of the top reasons that people avoid going to the dentist, even at the cost of their oral health; is fear. From just a minor fear that makes one nervous about a visit to the dentist to full-blown phobias that are crippling; there is a way to overcome this and Stone Ridge Dental is prepared.
fear of the dentist in not rare
One out of six people suffers from some form of anxiety related to going to the dentist. There's a reason it's so prevalent—it's a serious fear and is very real to those who deal with it. Even if it's something as simple as a cleaning—it triggers the anxiety. The fear of the unknown is what it usually is. That something else might be wrong and they'll get bad news.  These people often suffer major consequences due to their avoidance of quality dental care. Usually, this fear is deep-rooted and comes with a list of anxiety-related issues:
High levels of fear
History of traumatic dental experiences
Difficulty numbing
Bad gag reflex
Sensitive teeth
Limited time to get the dental care they need
Complex dental issues
Phobia of needles and shots
Fear of noises, tastes, and scents associated with dental clinics
Afraid and insecure about their smile
When patients come to Stone Ridge Dental, we want them to have the best patient experience, free from anxiety and in a relaxing environment that is conducive to mitigating the effects of dental phobia. That is why we are firm believers in what is known as sedation dentistry.
You can choose Sedation Dentistry through either General Anesthesia or Conscious Sedation which includes IV sedative, laughing gas, or oral sedation. The goal is to put you into a state of deep relaxation so we can effectively perform the procedure. We will guide you through a brief assessment to gauge your level of fear and specific anxieties.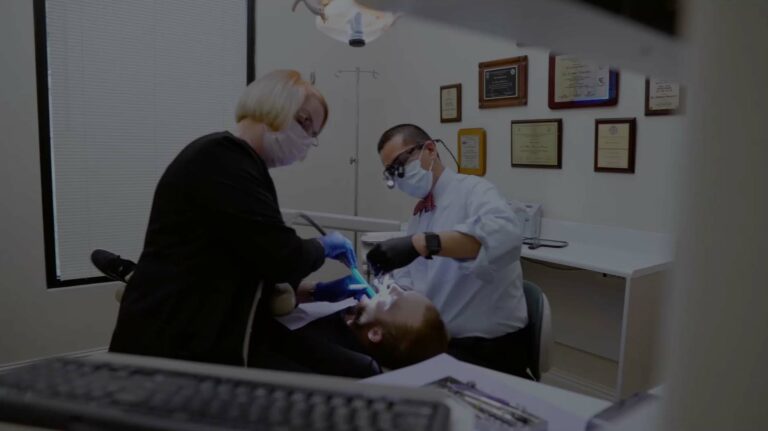 Sedation dentistry is an optional service we provide to make our patients feel relaxed, and calm via the use of sedatives such as valium, depressants, anti-anxiety medications, or nitrous oxide. This helps not only the patient relax, but also enables our dental professionals to do their job more effectively as well.
Sedatives are normally administered orally vs. intravenous so as not to create more stress with the use of needles and some patients' fears. While a patient is indeed sedated, they are at a safe level of consciousness that ensures a smooth procedure. Many patients don't remember their visit as if they were asleep, but in reality, the combination of sedative and then local anesthetic, create a feeling of total relaxation as if nothing happened.
The sedation also aids in administering local anesthetic which is still delivered via injection and can be troublesome for those with a fear of needles. The sedative numbs those fears and then the anesthetic temporarily blocks pain receptors in the affected area so it is a smooth transition.
We offer several types of sedation to appeal to a wide range of needs of each patient. We're sure that no matter what fears you may have, we have a sedation option that makes you comfortable.
there's nothing to fear - come in for a visit
If you have avoided the dentist due to anxieties, phobias, or fears; we can take great care of you and make sure your dental health does not suffer at the hands of your fears. We understand how frightening a visit to the dentist can be when you have those anxieties, but it doesn't have to be; not at Stone Ridge Dental— we understand you, and we will make it a stress-free experience.
Contact us
today to make your appointment.